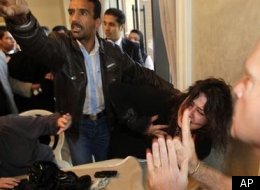 A Libyan woman had been gang-raped for two days by fifteen members of a paramilitary force loyal to Moammar Gaddafi.
She made a desperate plea for help on Saturday, slipping into a Tripoli hotel full of foreign media to accuse pro-government militiamen of gang-raping her and covering her in bruises and scars.
"Look at what Gaddafi's militias did to me," Eman al-Obaidi screamed with tears in her eyes, pulling up her coat to show blood on her upper leg.
After being intimidated by security men and hotel staff, who also beat journalists trying to interview her in the restaurant of the hotel, she was bundled into a car and driven away.
Obaidi said she had been arrested at a checkpoint in Tripoli because she was from the city of Benghazi, bastion of the insurgency against Libyan leader Muammar Gaddafi's rule.
Obaidi, who appeared to be in her 30s and was wearing a loose black coat, slippers and a scarf, said she had been raped by 15 men and held for two days. Her face was badly bruised.
"They swore at me and they filmed me. I was alone. There was whisky. I was tied up," she said, weeping and stretching out her arms to show the scars.
"They peed on me. They violated my honour."
Her story could not be independently verified. It was unclear whether she had escaped or had been released.
The government said it was treating her case as a criminal one.
"I assure you she is secure. All legal help is being offered to her," said government spokesman Mussa Ibrahim. "So far, nothing of what she says is political. It's a criminal case. It's being investigated to the full course of the law."
Share This Story to Your Friends ---

Libyan Woman Claims Raped By 15 Gaddafi Soldiers (VIDEO) Full Photos